The Mark of the Beast as a Spiritual Symbol
A popular argument is that the Mark of the Beast is only a spiritual symbol. As it goes, our forehead represents our thoughts, and our right hand represents our actions [1]. That by thinking a certain way, and doing or not doing certain things, we are damning ourselves to the lake of fire (Revelation 19:20). This may be a compelling argument but it's not the complete picture.
There are various other interpretations floating around the Internet. They range anywhere from the Mark of the Beast being money (Mark 12:14-17) to the Mark being Sunday worship (Colossians 2:16). These interpretations can be convincing at first but do not hold up to diligent study.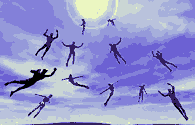 Many Christians would prefer to forget all about the Mark of the Beast. It's a popular belief that Jesus will return at any moment, that we'll be raptured up in the twinkling of an eye without any warning because we are good Christian boys and girls [2].
This interpretation of Scripture has been popularized by Tim LaHaye and Jerry B. Jenkins in their Left Behind series. These two men have gotten filthy rich off their books, all the while claiming that it's Truth [3]. Don't forget that the truth is free (Matthew 10:8, Romans 5:18). They even go as far as to say that a Christian can receive both God's seal and the Mark of the Beast [4], a very dangerous idea if not an outright lie!
So in their view why even worry about microchip implants when we'll be long gone, watching the destruction from above? [5] After all, only the bad Christian boys and girls along with those unlucky and disobedient Jews and Gentiles will be stuck on this earth to be tried and purified by the Almighty. Heck, you can even be forced to take the Mark of the Beast as long as you believed in Christ first.
But we're told to watch!
The Scriptures tell us clearly that the Lord Jesus will come like a thief in the night to those who are not watching (1 Thessalonians 5:2-6). So if we are diligent in our study of God's Word, and pay attention to the signs of the times, we will be ready for His return. We'll see God's glorious plan unfold right before our awestruck eyes.
We are told plainly that Jesus won't return until many leave their walk with God and the Antichrist is revealed (2 Thessalonians 2:1-3). And everyone knows that along with the Antichrist comes the Mark of the Beast.
Revelation
13
:
16-17
And

he causeth all

, both small and great, rich and poor, free and bond,

to receive a mark in their right hand

, or in their foreheads:
And

that no man might buy or sell

, save he that had the mark, or the name of the beast, or the number of his name.
Many Christians will tell you to forget about all that. They'll tell you that nothing needs to happen before Jesus returns. "Come listen to our ear-pleasing rendition of the Scriptures," they'll say. "Come, eat, drink, and be merry, for tomorrow we'll be saved." (1 Corinthians 15:32)
Jesus is coming to divide (Matthew 25:32, Matthew 3:12) and conquer (Revelation 12:9), only it might not happen the same way many of us have been taught [6] and many of us hope [7].
Will we be forced to die for our faith like the millions before us? Will we be given a choice? Or will we be swept away in a cloud for all the good that's in us and all the good we've done? (Romans 3:10-12) I say we will have a choice, as I believe does God's Word and the history behind us. Many have died for their faith rather than renounce Christ or their belief in Scripture.
Back to the subject at hand. Is the Mark of the Beast a RFID microchip implant? Many present sound doctrine in their study but are reckless when they choose to ignore the plain language of Revelation in order to shoot down such modern interpretations [8]. But if Revelation is primarily a prophetic book then a modern interpretation is very appropriate.
So can a cutting-edge microchip fit the role of the Mark of the Beast? An overwhelming amount of evidence points to yes, a resounding yes, a trumpet blasting yes!


Verses referenced in this study:
Matthew 3:12; 10:8; 25:32
Mark 12:14-17
Romans 3:10-12; 5:18
1 Corinthians 15:32
Colossians 2:16
1 Thessalonians 5:2-6
2 Thessalonians 2:1-3
Revelation 12:9; 13:16-17; 19:20


Links referenced in this study: