Common Reasons Given for the Christian Fish

It is said that early Christians used the fish to distinguish their bretheren from others on the road. By drawing one half of the fish in the dirt with their finger or a stick the Christian could test if a stranger was friend or foe. If the party in question knew the "secret handshake" he would finish the other half of the Christian fish to identify himself as a fellow believer.
Some toss this aside as fable but it makes perfect sense to an early Church who was persecuted without cause and could never be too cautious. This idea has seemed to develop a modern day offshoot. It can be observed through email and discussion boards, it's the use of text characters to create a Christian fish like so: <><
Another common reason given for the use of the Christian fish is found in an acrostic for the word "fish" in Greek. An acrostic is another name for an acronym, a phrase derived from the letters of a word. The Greek word for fish, ichthys, provided early Christians an opportunity for creative wordplay to form the phrase "Jesus Christ, God's Son, Savior". See the diagram below for clarification.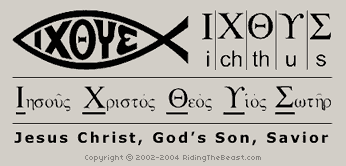 A Deeper Look at the Symbolic Significance of the Christian Fish
While it is true that the fish was used in ancient pagan cultures to symbolize fertility [1], that is not how it is commonly recognized today. But like most Christian truths, the Christian fish has been twisted into every self serving purpose imaginable [2][3]. So while there are many cultures and religions who got to the fish first, that is not the focus of this study.
Why did this symbol first come into use by Christians, even well before the cross? There are several available answers. All of which hold a great deal of importance in their own right. Let's take a look.
Fishing In Analogy:
Matthew
4
:
18-19
And Jesus, walking by the sea of Galilee, saw two brethren, Simon called Peter, and Andrew his brother, casting a net into the sea: for they were fishers.
And he saith unto them,

Follow me, and I will make you fishers of men.
Matthew
13
:
47-48
Again, the kingdom of heaven is like unto a net, that was cast into the sea, and gathered of every kind:

Which, when it was full, they drew to shore, and sat down, and gathered the good into vessels, but cast the bad away.
Fish to provide sustenance for many through miracles (three seperate occasions):
Matthew
14
:
16-21
But Jesus said unto them,

They need not depart; give ye them to eat.

And they say unto him, We have here but five loaves, and two fishes.
He said,

Bring them hither to me.

And he commanded the multitude to sit down on the grass, and took the five loaves, and the two fishes, and looking up to heaven, he blessed, and brake, and gave the loaves to his disciples, and the disciples to the multitude.
And they did all eat, and were filled: and they took up of the fragments that remained twelve baskets full.
And they that had eaten were about five thousand men, beside women and children.
Mark
8
:
5-9
And he asked them,

How many loaves have ye?

And they said, Seven.
And he commanded the people to sit down on the ground: and he took the seven loaves, and gave thanks, and brake, and gave to his disciples to set before them; and they did set them before the people.
And they had a few small fishes: and he blessed, and commanded to set them also before them.
So they did eat, and were filled: and they took up of the broken meat that was left seven baskets.
And they that had eaten were about four thousand: and he sent them away.
Luke
5
:
5-8
And Simon answering said unto him, Master, we have toiled all the night, and have taken nothing: nevertheless at thy word I will let down the net.
And when they had this done, they enclosed a great multitude of fishes: and their net brake.
And they beckoned unto their partners, which were in the other ship, that they should come and help them. And they came, and filled both the ships, so that they began to sink.
When Simon Peter saw it, he fell down at Jesus' knees, saying, Depart from me; for I am a sinful man, O Lord.
Living Water
The verses above show fish, as well as the act of fishing, used in analogy several times by Jesus. He refers to men as fish as well. Now we know for a fact that no matter what some claim fish have "evolved" into, they still need water to survive. Let's see what the book of John has to say about baptism and living water:
John
1
:
25-34
And they asked him, and said unto him, Why baptizest thou then, if thou be not that Christ, nor Elias, neither that prophet?
John answered them, saying, I baptize with water: but there standeth one among you, whom ye know not;
He it is, who coming after me is preferred before me, whose shoe's latchet I am not worthy to unloose.
These things were done in Bethabara beyond Jordan, where John was baptizing.
The next day John seeth Jesus coming unto him, and saith, Behold the Lamb of God, which taketh away the sin of the world.
This is he of whom I said, After me cometh a man which is preferred before me: for he was before me.
And I knew him not: but that he should be made manifest to Israel, therefore am I come baptizing with water.
And John bare record, saying, I saw the Spirit descending from heaven like a dove, and it abode upon him.
And I knew him not: but he that sent me to baptize with water, the same said unto me, Upon whom thou shalt see the Spirit descending, and remaining on him, the same is he which baptizeth with the Holy Ghost.
And I saw, and bare record that this is the Son of God.
John
3
:
2-7
The same came to Jesus by night, and said unto him, Rabbi, we know that thou art a teacher come from God: for no man can do these miracles that thou doest, except God be with him.
Jesus answered and said unto him,

Verily, verily, I say unto thee, Except a man be born again, he cannot see the kingdom of God.

Nicodemus saith unto him, How can a man be born when he is old? can he enter the second time into his mother's womb, and be born?
Jesus answered,

Verily, verily, I say unto thee, Except a man be born of water and of the Spirit, he cannot enter into the kingdom of God.

That which is born of the flesh is flesh; and that which is born of the Spirit is spirit.

Marvel not that I said unto thee, Ye must be born again.
John
4
:
9-15
Then saith the woman of Samaria unto him, How is it that thou, being a Jew, askest drink of me, which am a woman of Samaria? for the Jews have no dealings with the Samaritans.
Jesus answered and said unto her,

If thou knewest the gift of God, and who it is that saith to thee, Give me to drink; thou wouldest have asked of him, and he would have given thee living water.

The woman saith unto him, Sir, thou hast nothing to draw with, and the well is deep: from whence then hast thou that living water?
Art thou greater than our father Jacob, which gave us the well, and drank thereof himself, and his children, and his cattle?
Jesus answered and said unto her,

Whosoever drinketh of this water shall thirst again:

But whosoever drinketh of the water that I shall give him shall never thirst; but the water that I shall give him shall be in him a well of water springing up into everlasting life.

The woman saith unto him, Sir, give me this water, that I thirst not, neither come hither to draw.
John
7
:
37-39
In the last day, that great day of the feast, Jesus stood and cried, saying,

If any man thirst, let him come unto me, and drink.

He that believeth on me, as the scripture hath said, out of his belly shall flow rivers of living water.

(But this spake he of the Spirit, which they that believe on him should receive: for the Holy Ghost was not yet given; because that Jesus was not yet glorified.)
John
19
:
34-35
But one of the soldiers with a spear pierced his side, and forthwith came there out blood and water.
And he that saw it bare record, and his record is true: and he knoweth that he saith true, that ye might believe.
In John, which is often referred to as "The Water", we see a very interesting parallel between water, baptism, and The Holy Spirit begin to emerge. Also interesting is the last verse in which Jesus' side is pierced releasing both blood and water. During the time of Jesus, sacrifice of animals was commonplace in order to appease God through the release of blood [6]. But before we get into that, let's explore the symbolism of baptizing with water.
Spiritual Rebirth
What is the purpose of baptism? It is really quite simple. Baptism symbolizes the death of the old man (Adam) and rebirth into the new man (Jesus) through the repentance of sin [7]. While the physical rebirth is symbolized with the cleansing of water, the spirit (or soul) is seen as cleansed through the Holy Spirit; which is described as living water that provides everlasting life. Hence the term "Born Again" Christian [8]. Of course all of these seemingly abstract ideas mature in a Christian through faith, by the Grace of God.
Romans
5
:
1-5
Therefore being justified by faith, we have peace with God through our Lord Jesus Christ:
By whom also we have access by faith into this grace wherein we stand, and rejoice in hope of the glory of God.
And not only so, but we glory in tribulations also: knowing that tribulation worketh patience;
And patience, experience; and experience, hope:
And hope maketh not ashamed; because the love of God is shed abroad in our hearts by the Holy Ghost which is given unto us.
Back to the piercing in Jesus' side. Most importantly is the fact that this incident fulfills several prophesies of the Old Testament. But let's look at the imagery itself. The release of blood and water is highly symbolic of the physical birth. So here we are back to the symbol of the fish used as a fertility symbol, but in the Christian sense it is related not to the first natural birth of the mother but to the spiritual rebirth of the Father. So, just as fish need water in order to survive, let us not forget that Christians need the Holy Spirit to live as God desires!
Further Reading:
Bible Study - Fishermen
http://www.execulink.com/~wblank/20001124.htm
Bible Study - Water
http://www.execulink.com/~wblank/20000425.htm
Fish Symbol
http://www.aveyinc.com/fish.htm
Fish Page
http://ww2.netnitco.net/users/legend01/fish.htm
Britannica.com - fish
http://www.britannica.com/eb/article?eu=120747
Verses of note in the Old Testament:
Exodus 7:18,21

Psalms 8

Ecclesiastes 9:12

Isaiah 19:8

Jeremiah 16:16

Ezekial 29:1-6

Ezekiel 47:8-10

Jonah 1:17

Zephaniah 1:3



Verses referenced in this study:
Matthew 4:18-19; 13:47-48; 14:16-21
Mark 8:5-9
Luke 5:5-8
John 1:25-34; 3:2-7; 4:9-15; 7:37-39; 19:34-35
Romans 5:1-5


Links referenced in this study: